Event Description
Established in 2004, the Fall Social Work Institute was designed to extend the availability of "CEU" focused continuing social work education to the three different regions in our primary geographic territory. The Institute convenes annually in September offering a 7 hour continuing education credit package. This year, our conference will be broadcast virtually to all attendees on the same date. Vendor & exhibit space will be available virtually. The Fall Social Work Institute offers a smaller, more intimate setting for your learning experience.
Curriculum & Agenda – September 10
This year's curriculum addresses "Hot Topics" in Social Work practice.
TIME
PROGRAM INFO
7:30 am – 8:15 am
Sign In & Visit Vendor Exhibit Hall
8:15 am – 10:00 am

Scott Sells

Welcome, orientation and introductions, followed immediately by Keynote:
Stopping Extreme Disrespect; Family Trauma Situations (1.5 Clinical CEU)
Scott Sells, Ph.D.
Family Trauma Institute
Learning Objectives:

Evaluate how extreme disrespect is caused by an imbalance of love or limits, an upside-down hierarchy, and family trauma using the FST| Family Systems Trauma Model.
Locate "undercurrents" or the hidden causes of a child or adolescent's extreme disrespect to know where to tap and quickly intervene at a root level.
Integrate a 7-question FST motivational technique to motivate even your toughest parents to show up and see disrespect as a family problem to solve and not just a "fix my kid" problem.
Utilize step-by-step FST tools, scripts, and handouts to quickly heal the extreme disrespect in the child but also the fallout of trauma within the entire family.

10:00 am – 10:15 am
Visit Vendor Exhibit Hall / Break
10:15 am – 11:45 am

Lori Vann

Non-Suicidal Self-Injury: What You Think You Know Could Be Wrong (1.5 Clinical CEU)
Lori Vann, MA LPC-S
Website

Learning Objectives:

Ability to identify at least 10 of the over 25 different forms of NSSI
Understanding of the difference between NSSI vs. SI including important assessment questions
Knowledge of the locations on the body where NSSI takes place
Ability to recognize the misconceptions about why people engage in NSSI
Identify the Top 5 Reasons why someone self-harms

11:45 am – 12:45 pm
Lunch / Visit Vendor Exhibit Hall
12:45 pm – 2:15 pm

Leslie Herhold
Perinatal Mental Health: Diagnosis, Treatment, and Clinical Considerations (1.5 Clinical CEU)
Leslie Herhold, LCSW
Website

This workshop will focus on the provision of clinical treatment of Perinatal Mood and Anxiety Disorders (PMADs). Participants will gain knowledge of these conditions and effective tools that can be used in their own practice.

Learning Objectives:

Participants will gain understanding of the 5 types of Perinatal Mood and Anxiety Disorders– Postpartum Depression, Postpartum Anxiety, Postpartum Obsessive-Compulsive Disorder, Postpartum Post-Traumatic Stress Disorder, and Postpartum Psychosis–and the ability to diagnose and provide effective treatment utilizing clinically-based tools.
Participants will gain the ability to discuss special considerations in treating pregnant and postpartum women, and the ways in which treatment is not the same as in the general population.
Participants will gain understanding of how PMADs can manifest in special circumstances, including pregnancy loss, birth trauma, and NICU admissions.
Participants will learn the causes of and risk factors for these disorders.

2:15 pm – 2:30 pm
Visit Vendor Exhibit Hall / Break
2:30 pm – 4:00 pm

Brandy Klingman
Of Grit and Grace: A Therapist's Toolbox (1.5 CEU Ethics)
Brandy Klingman, LCSW
Website

Mental health providers are often the unthought of first responders to the community's crisis. Whether it is a mass shooting, terrorist attack, natural disaster or pandemic the mental health community is always there. Therapists, counselors, and social workers are often there front lines working, listening, holding up our community in our greatest times of need. So what is it exactly that gives us the ability to step up, stand forward, hold and endure during these times of stress? This presentation will review the therapists measure of grit (perseverance and determination), as well as grace (the compassion measure) as they relate to the health of the therapists. The ability to pay attention and nurture to these two measures can be the difference between the healthy first responder versus the level of burn out. We will review empirical evidence and literature that supports the definition and application of these measures, as well as ways to nurture and improve upon these two with intention and focus. This will better both the therapists ability to thrive and also the community they serve.

Learning Objectives:

Examine ecosphere crisis related to the helper role and review bio-psychosocial responses to front line crisis response.
Review relationship of duration of exposure and level of stress to burnout of responders/therapists.
Define grit and grace as related to internal response and drive of the therapist as well as it's exhibition both towards others and the self.
Review supported evidence and literature on practices to improve these skills for improved outcomes of crisis response.

4:00 pm – 4:16 pm
Visit Vendor Exhibit Hall / Break
4:16 pm – 5:15 pm

Dennis Malloy

Ethics Fest: Explore the "Social Work Fairgrounds" for Facts, Philosophy, & Fun (1 Ethics CEU)
Dennis Malloy, LCSW

Using a "Social Work Festival Fairgrounds" framework, participants will:

Learn about basic types of ethics, including situational ethics and consequentialism and how they relate to current social work ethics
Apply ethical concepts through the use of scenarios faced by social workers in practice
Identify the rationale for ethical self-care for social workers and ways to practice self-care
Examine current and projected practices and trends and their implications for ethics in the future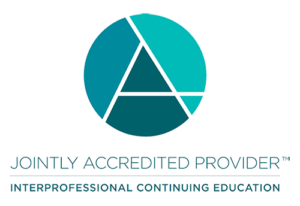 Accreditation Statement
In support of improving patient care, this activity has been planned and implemented by Amedco LLC and Continuing Education Producstions, Inc.. Amedco LLC is jointly accredited by the Accreditation Council for Continuing Medical Education (ACCME), the Accreditation Council for Pharmacy Education (ACPE), and the American Nurses Credentialing Center (ANCC), to provide continuing education for the healthcare team.
Social Workers (ASWB):

As a Jointly Accredited Organization, Amedco is approved to offer social work continuing education by the Association of Social Work Boards (ASWB) Approved Continuing Education (ACE) program. Organizations, not individual courses, are approved under this program. State and provincial regulatory boards have the final authority to determine whether an individual course may be accepted for continuing education credit. Amedco maintains responsibility for this course. Social Workers completing this course receive 4.50 Clinical continuing education credits and 2.50 Ethics hours.
The following state boards accept courses offering ASWB ACE credit for Social Workers: AK, AL, AR, AZ, CA, CO, CT, DC, DE, FL, GA, HI, ID, IL, IN, IA, KS, KY, LA, ME, MD, MA, MI, MN, MS, MO, MT, NC, ND, NE, NH, NM, NV, OH, OK, OR, PA, RI, SC, SD, TN, TX, UT, VT, VA, WA, WI, WV, WY
* WV accepts ASWB ACE unless activity is live in West Virginia, then an application is required.
The following state boards accept courses offering ASWB ACE credit for Counselors: AK, AR, AZ, CA, CO, CT, DC, FL, GA, IA, ID, IL, IN, KS, MA, MD, ME, MO, ND, NE, NM, NH, NV, OK, OR, PA, TN, TX, UT, VA, WI, WY
AL/Counselors: Activities not providing NBCC approval may be approved by the Board for individual licensees upon receipt of acceptable documentation prior to the activity.  Please send course details to your licensing board for approval BEFORE the event.  No approvals afterward by the board.
MI: No CE requirement
The following state boards accept courses offering ASWB ACE credit for MFTs: AK, AR, AZ, CA, CO, FL, IA, ID, IN, KS, MD, ME, MO, NC, NE, NH, NM, NV, OK, OR, PA, RI, TN, TX, UT, VA, WI, WY
MA / MFTs: Participants can self-submit courses not approved by the MAMFT board for review.
MI: No CE requirement
The following state boards accept courses offering ASWB ACE credit for Addictions Professionals: AK, CA, CO, CT, GA, IA, IN, KS, LA, MO, MT, ND, NM, NV, OK, OR, SC, WA, WI, WV, WY
LA LPCs: This program has been approved for 7.0 CE clock hours including 3.0 in Diagnosis, 1.5 in Ethics and 2.5 General by the Louisiana Counseling Association as authorized by the Louisiana Professional Counselor Licensing Board of Examiners
MS MFTs: This Institute has been approved by the MS BOE MFT for 7 general hours.
Registration Options
Register by Fax: (866) 929-1217
Register by Email: carol@socialworkfoundations.com
Register by Mail:  Fall Social Work Institute, PO Box 6003, Gulfport, MS 39506
Make check or Purchase Order payable to:
Fall Social Work Institute
Tax ID # 64-0844253
Method of Payment:
Check, Money Order or Credit Card
(Visa, Master Card, American Express, Discover)
Refund Policy: NO registration refunds. All registrations are final. Substitutions allowed.
ADA Accommodations: If you require special accommodation or support of any kind to attend this conference, please contact Wallace Long at 228-424-2956.

Social Workers – See complete SW CE info below

7 Continuing Education Credit Hrs. Included