Event Description
Welcome to the 2020 Chicago Social Work Conference (CSWC) and Social Work Foundations. Social Work Foundations has been developing and offering cutting-edge accredited social work and mental health continuing education to our professional community for over 25 years. We are directed by a seasoned team of LCSWs & ACSWs who are committed to our vision of maintaining "Excellence in Social Work Education and Practice"!
We are proud to present The Chicago Social Work Conference on September 25, 2020. We think you will be impressed with our faculty, curriculum, and networking opportunities. Our conference will be broadcast virtually to all attendees on the same date. Agency exhibit space will be available virtually. This year, the CSWC will provide the possibility of obtaining 7 contact hours including 1.5 ethics hours and 1 sexual harassment prevention (mandatory training) hour for our attendees.
Wallace G. Long III, MSW, LCSW, BCD
Conference Director
St Charles, IL
228-424-2956
Curriculum & Agenda – September 25
TIME
PROGRAM INFO
7:30 am – 8:00 am
Sign In & Visit Vendor Exhibit Hall
8:00 am – 9:45 am

Joe Wegmann
Welcome, orientation and introductions, followed immediately by Program 1:
Breaking the Pattern of Chronic Anxiety: Transformative Treatment Strategies (1.5 CEU)
Joseph Wegmann, R.Ph., LCSW
"The PharmaTherapist"
Consultant | Professional Speaker | Author | New Orleans, LA

Learning Objectives:

Explain how anxiety impedes a client's capacity to engage in treatment.
Describe simple, yet effective clinical strategies to help clients acquire a new understanding of chronic anxiety.
Learn how to utilize specific behavioral interventions to decrease problematic symptoms of Panic Disorder, Generalized Anxiety Disorder, and Obsessive-compulsive Disorder.
Address the pros and cons of medicating anxiety symptoms.

9:45 am – 10:00 am
Visit Vendor Exhibit Hall / Break
10:00 am – 11:30 am

Joe Monahan
Sexual Harassment Prevention (Mandatory Training) (1.5 CEU)
Joe Monahan, MSW, JD

Learning Objectives:

Define what constitutes sexual harassment
Define behavior do's & don'ts (Basics)
Define what constitutes as a "Hostile Work Environment"
Define employee rights / reporting issues & responsibilities
Define employer / management / supervisor reporting issues and rights & responsibilities

11:30 am – 12:30 pm
Lunch / Visit Vendor Exhibit Hall
12:30 pm – 2:00 pm

Julia DiGangi
Bringing the Brain into Clinical Care: How Understanding the Brain Can Help You Serve Your Clients (1.5 CEU)
Julia DiGangi, PhD

Learning Objectives:

Examine the effects of stress and trauma on clients' brains and overall wellbeing.
Describe why certain treatments (e.g., mindfulness, talk therapy, exposure) work to calm the nervous system and improve wellbeing.
Examine evidence-based strategies for promoting resilience and calming the anxious brain.
Utilize practical and easy-to-understand ways of talking to clients about how their brains work and how to improve wellbeing.

2:00 pm – 2:15 pm
Visit Vendor Exhibit Hall / Break
2:15 pm – 3:45 pm

Mark Sanders
Ethics in the Clinical Relationship: Ethics Training (1.5 Ethics CEU)
Mark Sanders, LCSW

Learning Objectives:

Be aware of how counselor unfinished business can impact ethics
Be able to establish healthy boundaries in the clinical relationship
Be aware of 5 types of transference and how they can impact ethics
Be able to use countertransference as a gift to avoid ethical dilemmas
Be able to terminate the clinical relationship in an ethical manner

3:45 pm – 4:00 pm
Visit Vendor Exhibit Hall / Break
4:00 pm – 5:00 pm

Colleen Caron
Laughing Your Way to Wellness: Humor for the Brain and Body (1 CEU)
Colleen Caron, RNC, MS, CDP

How about a good "belly" laugh to reduce stress and promote health and well-being. Can you laugh your way to wellness? This presentation by Colleen Caron, RNC,MS,CDP will assist you in finding the answer. Learn about the physical, emotional and spiritual benefits of laughter on mind, body, and spirit. Participants will engage in laughter yoga exercises; allowing them to experience the powerful benefits of laughter. "You don't stop laughing because you grow old, you grow old because you stop laughing". A powerful tool to teach our clients.

Objectives For Above Presentation:

Participants will identify the spiritual and emotional benefits of laughter
Participants will list 5 physical benefits a person receives from laughter exercise
Participants will identify positive neuro-transmitters enhanced during laughter exercises
Participants will identify the decrease in stress releasing neuro-transmitters
Participants will identify how laughter exercises enhance lung, brain, and heart function, total body workout

5:05 pm – 5:15 pm
Thank you, evaluation / CEU reminder and wrap up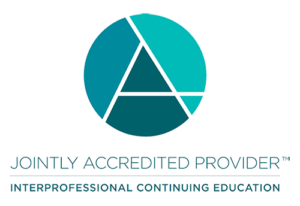 Accreditation Statement
In support of improving patient care, this activity has been planned and implemented by Amedco LLC and Continuing Education Productions, Inc. Amedco LLC is jointly accredited by the Accreditation Council for Continuing Medical Education (ACCME), the Accreditation Council for Pharmacy Education (ACPE), and the American Nurses Credentialing Center (ANCC), to provide continuing education for the healthcare team.
Social Workers:

As a Jointly Accredited Organization, Amedco is approved to offer social work continuing education by the Association of Social Work Boards (ASWB) Approved Continuing Education (ACE) program. Organizations, not individual courses, are approved under this program. State and provincial regulatory boards have the final authority to determine whether an individual course may be accepted for continuing education credit. Amedco maintains responsibility for this course. Social workers completing this course receive 7.00 GENERAL continuing education credits.
The following state boards accept courses offering ASWB ACE credit for Social Workers: AK, AL, AR, AZ, CA, CO, CT, DC, DE, FL, GA, HI, ID, IL, IN, IA, KS, KY, LA, ME, MD, MA, MI, MN, MS, MO, MT, NC, ND, NE, NH, NM, NV, OH, OK, OR, PA, RI, SC, SD, TN, TX, UT, VT, VA, WA, WI, WV, WY
* WV accepts ASWB ACE unless activity is in live in West Virginia then an application is required.
The following state boards accept courses offering ASWB ACE credit for Counselors: AK, AR, AZ, CA, CO, CT, DC, FL, GA, IA, ID, IL, IN, KS, MA, MD, ME, MO, ND, NE, NM, NH, NV, OK, PA, TN, TX, UT, VA, WI, WY
AL / Counselors: Activities not providing NBCC approval may be approved by the Board for individual licensees upon receipt of acceptable documentation prior to the activity. Please send course details to your licensing board for approval BEFORE the event. No approvals afterward by the board.
The following state boards accept courses offering ASWB ACE credit for MFTs: AK, AR, AZ, CA, CO, FL, IA, ID, IN, KS, MD, ME, MO, NC, NE, NH, NM, NV, OK, PA, RI, TN, TX, UT, VA, WI, WY
MA / MFTs: Participants can self-submit courses not approved by the MAMFT board for review.
The following state boards accept courses offering ASWB ACE credit for Addictions Professionals: AK, CA, CO, CT, GA, IA, IN, KS, LA, MO, MT, ND, NM, NV, OK, OR, SC, WA, WI, WV, WY
Registration Options
Register by Fax: (866) 929-1217
Register by Email: lesliea@socialworkfoundations.com
Register by Mail: Chicago Social Work Conference, P.O. Box 110, Westmont, IL 60559
Make checks or money orders payable to:
"Chicago Social Work Conference"
Tax ID # 64-0844253
Method of Payment:
Check, Purchase Order or Credit Card
(Visa, Master Card, American Express, Discover)
Refund Policy: All registrations are final! NO REGISTRATION REFUNDS. Registration fees are transferable.
ADA Accommodations: If you require special accommodation or support of any kind to attend this conference, please contact Leslie Abrahamson at 630.234.0164.

Social Workers – See complete SW CE info below

7 Continuing Education Credit Hrs. Included

Ethics and Mandatory Sexual Harassment Prevention Training Hours Included